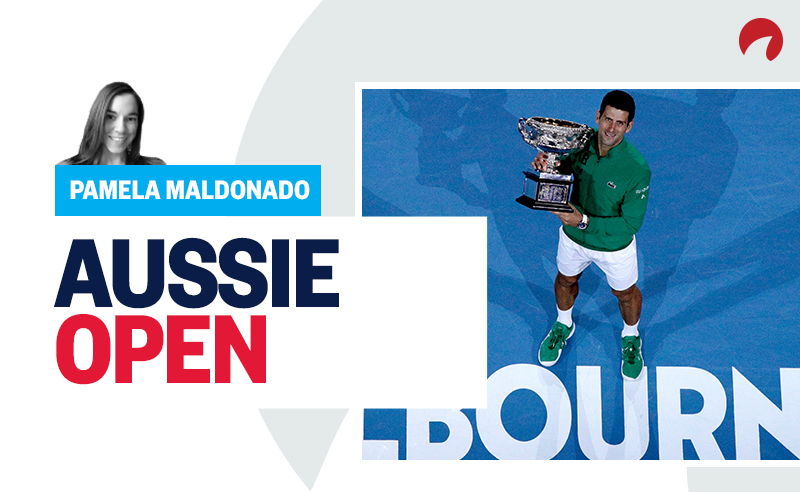 2020 was such a shift for every sport, tennis included. We saw events like Wimbledon canceled, events like Roland Garros rescheduled and events played with limited to no fans. So far, 2021 is looking to continue the trend of adjustments.
For the first time, the Australian Open will kick off in February with the tournament set to begin on the 8th, three weeks later than the original date. Under the current plan, players flying into Melbourne will be required to quarantine for the standard 14 days but will be allowed a daily five-hour period for training and treatment.
Unlike the US Open, the Australian Open will have fans in the stands on the three main courts. The 15,000-seat Rod Laver Arena, 9,600-seat John Cain Arena, and the 7,500-seat Margaret Court Area will hold a quarter of the capacity. We've seen how having no crowds affects the overall play so this is certainly a portion of the handicap that should be considered.
2020 was also supposed to be an especially special year for tennis with the Tokyo Summer Olympics part of the schedule. As we know, that was also postponed. We are now 200 days away from the 2021 Olympics but that is still undetermined if it will go on as planned.
So, let's talk about the Aussie Open and predict the winners and losers so we can capture the early market value that is out there. The main draws are the most important information to review before the tournament starts. Unfortunately, those draws won't be released until three or four days before the event starts. Instead, I'll review some signals and storylines that could offer hints about who's going far this year and who might win it all.
Predicting the Men's Draw
Each major Grand Slam except Wimbledon will only consider the ATP and WTA rankings when setting player seedings for the tournament. This means we can take a look at the current ATP and WTA rankings lists to give us a clue how the draw will line up.
Looking at the ATP rankings, we can see the following clues for the top and bottom half of the draws: Novak Djokovic No. 1, Rafael Nadal No. 2, Dominic Thiem No. 3, Daniil Medvedev No. 4, Roger Federer No. 5 (withdrawn), and Stefanos Tsitsipas No. 6, who is likely to take the fifth seed in place of Federer, putting Alexander Zverev, ranked No. 7, as the sixth seed, instead.
This information points to Djokovic, Medvedev, and Tsitsipas being in the same half of the draw (top) and likewise Nadal, Thiem, Zverev for their side of the draw (bottom).
You can see that Djokovic (-110) will have to worry about Medvedev (+500) and Tsitsipas (+1200). For some, that would seem like a tall order. However, this is Djokovic's most comfortable Grand Slam event as he owns eight titles, and has won the last two in back-to-back years.
Djokovic proved at Melbourne 2018 he can handle Medvedev. He did lose to Medvedev in the ATP Finals but London is a bit faster of a surface, benefitting Medvedev's big serve. Simply put, Australia is his surface. Djokovic could and should make the final.
On the other side of the draw, you can see that Nadal (+450) will certainly have to face one formidable opponent who has pushed him to the edge on hardcourt and that's Thiem (+550). Prior to 2020, Nadal won their only hardcourt meeting at the 2018 U.S. Open in a grueling five-set match that could have easily gone Thiem's way.
They then played twice on hardcourt in 2020, at the Australian Open and at the ATP World Tour Finals, where Thiem took both matches, with both having gone to multiple tiebreaks. It's fair to say at this point that Thiem is in control of this head-to-head matchup.
Thiem has only continued to grow as a player both in his skillset and his mental game. 2019 proved to be a breakout year for him when he won at Indian Wells and Beijing and nearly won the ATP Finals in London. He did lose to Djokovic in last year's final but that match did go the distance. We then saw Thiem excel in a best of three thriller defeating Novak in the ATP World Tour Finals.
Early Options to Bet
Futures-wise, it feels like the bottom half of the draw belongs to Thiem (+550), who would most likely face Djokovic (-110). Thiem can certainly beat Novak. If I'm looking to take a futures bet this early – before the draw is released – then I would only be looking to take plus-money options like Thiem.
In 2020, we saw some crazy things happen, and not even someone like Novak is a lock in a year of covid.
Women's Australian Open Odds
Women's tennis is tough. Pull a name from the hat and you might have better luck at predicting a winner that way. Things are a lot less clear-cut with a different champ crowned in each of the last five Aussie Open tournaments.
In 2020, Naomi Osaka was the incumbent champion, however, she lost to Coco Gauff in the third round. Instead, it was Sofia Kenin who won her first Grand Slam title, defeating Garbine Muguruza in the final.
Osaka is the favorite at +700 with Ashleigh Barty and Serena Williams rounding out the top three, both listed at +800.
Serena Williams Still in Search of 24th Grand Slam
Serena Williams last won the Australian Open in 2017, defeating sister Venus in straight sets in the final. Williams holds seven Aussie Open titles and 13 Grand Slam singles titles on hardcourt but had an early exit last year losing in the third round. Currently 11th in WTA rankings, Serena played a light schedule in 2019, participating in only eight tournaments – including the Australian Open, where she was eliminated in the quarterfinals.
She had an even lighter schedule in 2020, having played just five tournaments but did snag a win in Auckland and made it to the semifinal at the US Open. As time progresses, she looks to be getting closer to full form.
Can Osaka Win Another Title?
Fan-favorite Naomi Osaka (+700) will be looking to repeat her 2019 Aussie Open success. She returned to practice in early December after not playing the remainder of the year from a back-injury post winning the 2020 US Open title. Posted to Instagram, she was pictured training with Tommy Haas, who she was training with prior to her US Open win.
Dark Horse: Andreescu Back in Action and Looking to Continue Her Ascent
Bianca Andreescu (+1200) only turned pro in 2017 but she's seen some massive success. In 2019, she rose to fifth in the world rankings, winning three WTA titles including Indian Wells and the US Open defeating Serena Williams. At +1200 (pre-draw), Andreescu possesses the qualities to come out of the Australian Open a winner.
The only trouble area is her health. Andreescu missed some time in 2019 and did not play a single match in 2020 due to a lingering knee injury in conjunction with the pandemic. However, she has been seen training in Dubai for the upcoming Australian Open 2021.
A full breakdown and prediction will be provided once the draw is released closer to the event.