The title of this column isn't a misprint. Billions of dollars were collectively wagered through online gambling channels in Pennsylvania and New Jersey in September.
In September, the two states combined for more than $1.2 billion in sports betting handle.
New Jersey: $748.6 million
Pennsylvania: $462.8 million
Gamblers in the two states wagered even more money on online slot machines and table games.
The Pennsylvania Gaming Control Board reported over $2 billion wagered on internet slots and non-poker table games in September. The New Jersey Division of Gaming Enforcement doesn't report online casino handle, but a fair estimate based on revenue is twice as much as Pennsylvania.
Add it all up, and the two states, with a combined population of around 22 million (with a big assist from New York City), wagered in the vicinity of $7 billion online in September. That works out to about $318 per resident.
Even factoring in NYC, it's a mind-boggling (and somewhat concerning) number, considering the states' casinos have reopened and are doing quite well.
Sports Betting Rebounds
September was a big month on the sports calendar, and that showed up in the sports betting handle in New Jersey and Pennsylvania.
Both states set personal records for the amount wagered in a month, and New Jersey posted the best month ever in the history of US sports betting.
However, those records didn't carry over to revenue.
In Pennsylvania, promotional play was tossed around like candy in a Halloween parade (some $12 million according to the PGCB). That resulted in just $6.3 million of revenue in Pennsylvania. So, while handle has eclipsed pre-pandemic levels in the Keystone State, revenue continues to lag.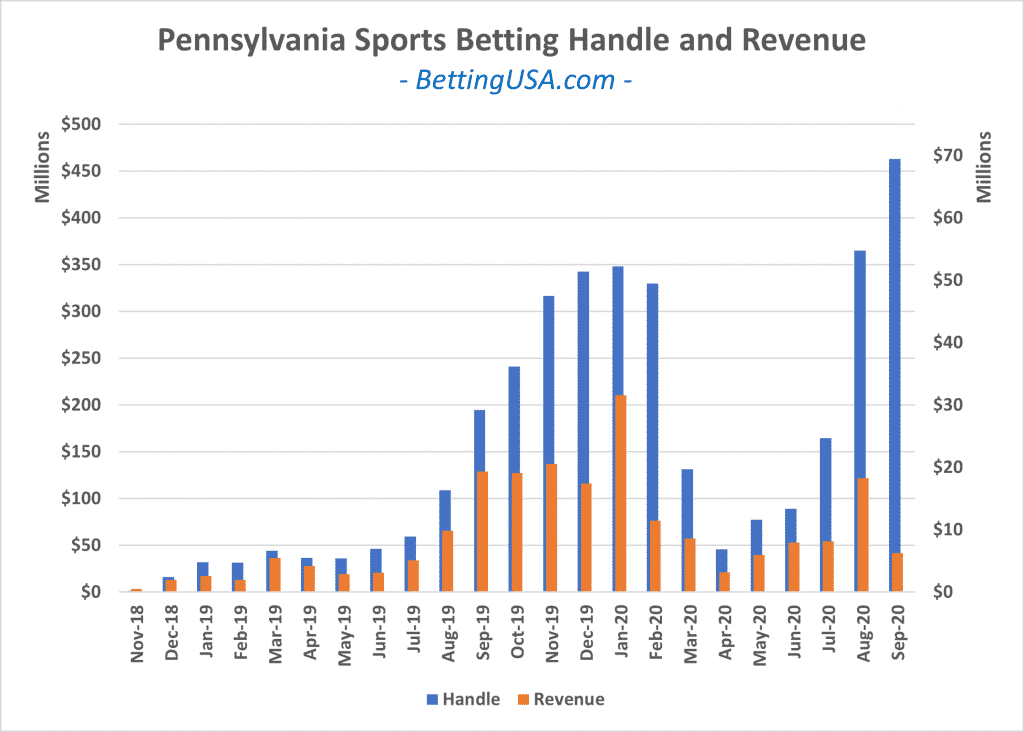 New Jersey sportsbooks did much better, as they tallied $45.1 million for the month. That translates to a hold percentage of around 6%. Further, the amount of promotional play involved is unclear. Unlike Pennsylvania, New Jersey operators cannot write-off promotional play, so it's not included in the revenue reports.
Online Casino Revenue Remains Elevated
It wasn't surprising to see online casino and poker revenue skyrocket during the Spring and Summer COVID-19 shutdowns. Land-based casinos were shuttered, and the sports calendar was a selection of table tennis and 12th-tier soccer leagues. It is surprising to see those elevated numbers continue after the reopening of casinos in early July and the return of major sports leagues.
Essentially, COVID-19 shutdowns sent players to online casinos, and those new online casino customers are showing some stickiness.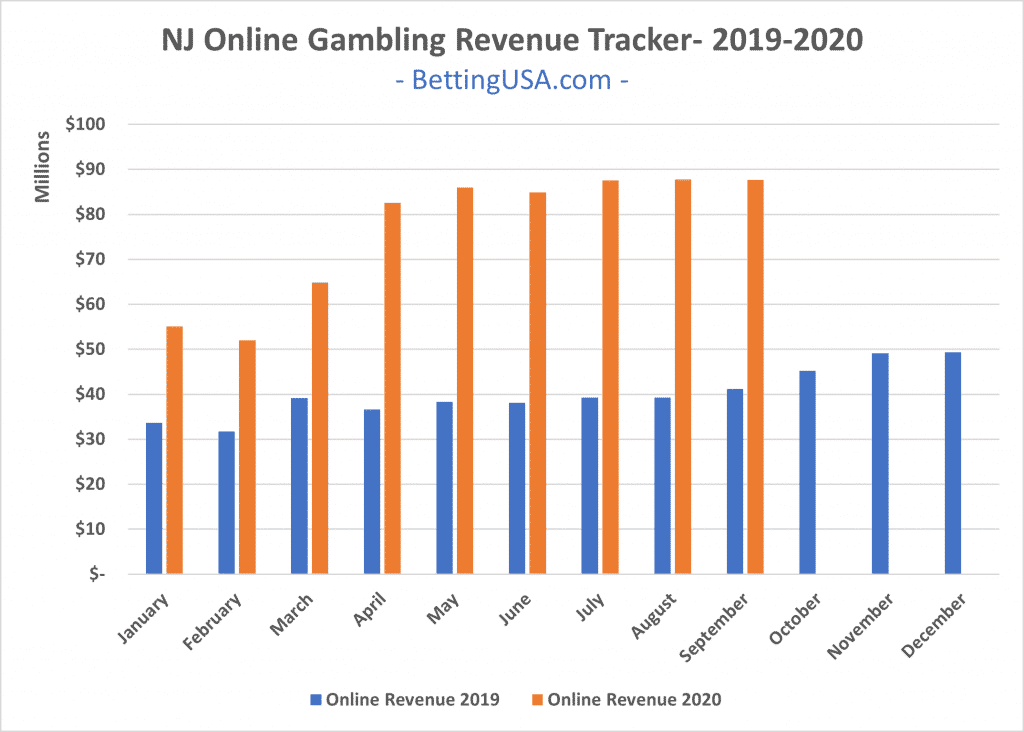 Three Things to Watch
Online Poker Falls Back to Earth
Online poker in New Jersey posted record-setting numbers during the pandemic shutdowns. Still, with casinos reopening (and slowly but surely reopening their poker rooms), online poker sites haven't been able to maintain those numbers.
After years of sub-$2 million months, online poker revenue more than doubled this summer, hitting a highwater mark of $4.8 million in July, due to a combination of closed poker rooms and the online World Series of Poker.
In September, online poker revenue had already receded to $2.6 million. That number is a 56% year-over-year increase, but well below online poker's recent numbers.
Barstool's Market Share
Barstool launched its Pennsylvania sports betting app mid-month and posted a 7% market share for September.
The big question is, where are those players coming from? Is Barstool expanding the market or siphoning off customers from existing operators? It looks to be a bit of both based on analysis from Eilers & Krejcik Gaming's Chris Grove.
I suspected this would be the case a couple of months ago when Grove polled his Twitter audience.
Will Online Casino Finally Get Some Love?
When do states start realizing that online casino is where the money is? That's a question I've been asking for a couple of years, and I still can't figure out where the disconnect is.
States can generate some much-needed revenue from sports betting. They'll generate even more from online casinos and even more if they legalize both, as the sum of online casino and sports betting is greater than the parts.