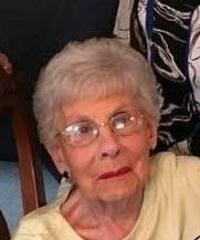 BEMENT — Cathryn F. "Katie" Bentley, 87, of Bement passed away at 10:44 p.m. Friday, Jan. 1, 2021, at her residence in Bement.
Public visitation for Katie will be from 4 to 7 p.m. Tuesday, Jan. 5, 2021, at Hinds Funeral Home, 348 N. Piatt St., Bement. We ask that you please wear a mask and practice social distancing. Private family graveside services will be held Wednesday, Jan. 6, 2021, at Bement Township Cemetery. The Rev. Marsha Frederick will officiate. Memorial contributions can be made to the Bement E.M.T. Association.
Katie was born Oct. 3, 1933, a daughter of Chester and Gladys Egbert Scott. She married Delmar "Babe" Bentley on June 3, 1951; he passed away Aug. 31, 1998.
Survivors include her children, Eddie (Edward Quarles) Bentley of Indianapolis and Dave Bentley, Susie (Aaron) Hinds and Jimmy (Cindi) Bentley, all of Bement; three grandchildren, Tiffany (Dr. Clint) Jackson of Champaign and Carissa (Andy Parsons) Benner and Kymberly Bentley, both of Bement; and three great-grandchildren, Mackenzie and Cole Jackson and Tenley Parsons.
She was preceded in death by her parents, her husband, two sisters and four brothers.
Katie was a clerk at Smitty's Market and later Kitner's IGA for over 50 years. She loved to play all card games, including euchre, uno, and rummy, but her greatest love was spending time with her family.
Aaron and Susie Hinds of Hinds Funeral Home are proud to honor the life of their mother, Cathryn F. Bentley. "Our Family is Here to Serve Your Family." Please visit our website at hindsfuneralhome.com to offer condolences.