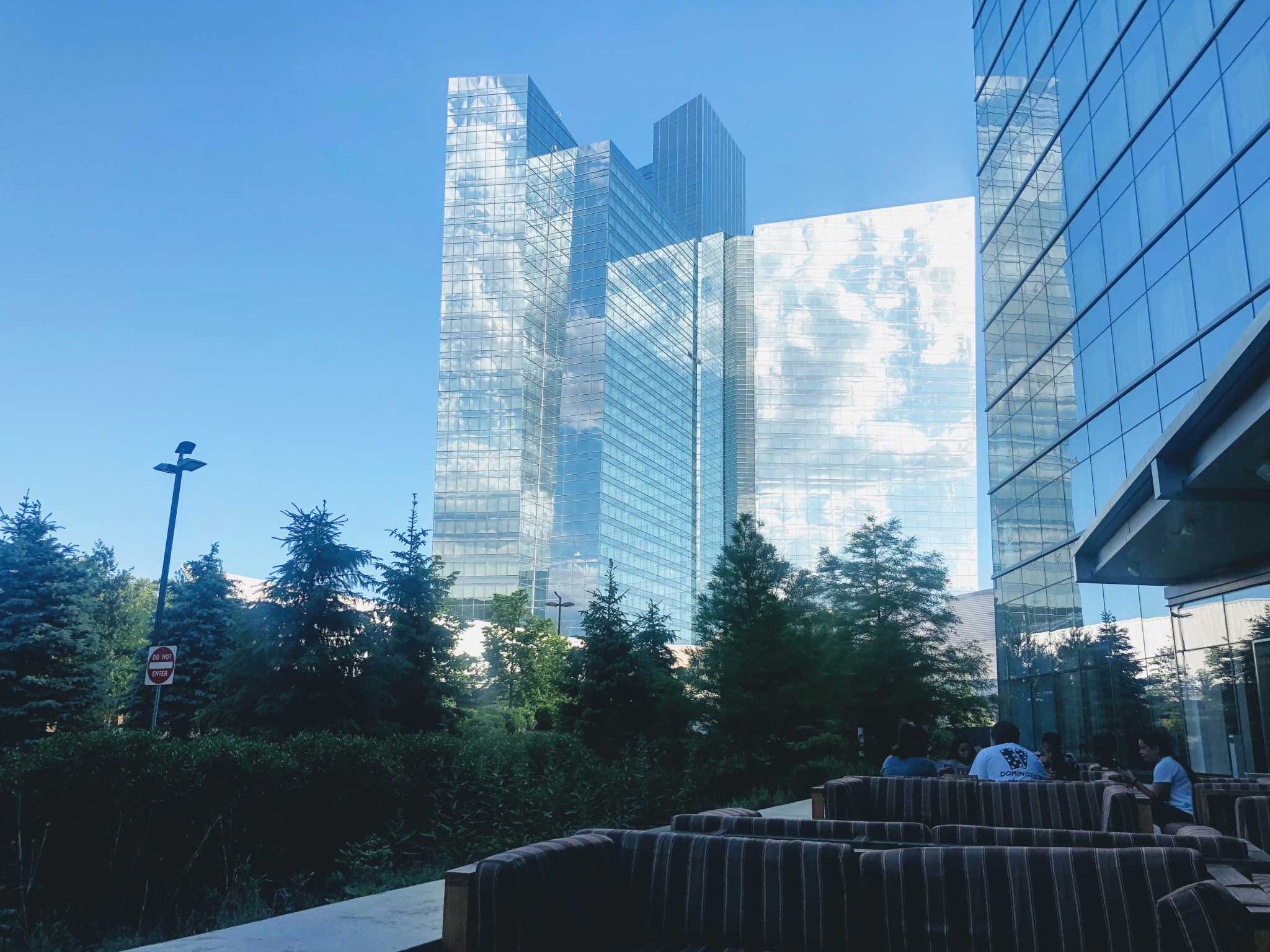 As Connecticut legislators convene Wednesday for triage on the Connecticut economy, they will do so with the latest red alert in hand — a "going concern" warning disclosing the current financial straits for the operator of the Mohegan Sun casino, among the largest employers in the state.
The Mohegan Tribal Gaming Authority flagged its financial status last week in a filing with the U.S. Securities & Exchange Commission. In SEC boilerplate language, the casino resort operator stated "substantial doubt" exists of its ability to pay down fully $615 million in debt coming due this October short of refinancing, getting a waiver on terms for two loans coming due, or otherwise seeing a dramatic rebound in its resort businesses. Citizens Bank lined up the two loans in 2016 as part of a larger, $1.6 billion financing package from multiple creditors.
In a statement forwarded Tuesday by a spokesperson, Mohegan Gaming & Entertainment CEO Mario Kontomerkos described the SEC disclosures as "a required accounting designation" triggered by debt maturing within a year's time.
"That said, our existing unsecured bonds are currently trading at or near par, suggesting that the capital markets believe that [Mohegan Gaming & Entertainment] has adequate means to address the maturities in the normal course," Kontomerkos stated. "There are no plans for expanded furloughs or layoffs at this time to address these maturities."
The authority did not indicate whether it would seek a deferral of payments to Connecticut under an existing revenue compact, or consider selling real estate or other assets to amass cash to pay down debt. Under Kontomerkos and James Gessner who chairs the Mohegan Tribal Gaming Authority, MGE has resorts under development in South Korea and Greece.
Connecticut issued a forbearance last spring on three months of payments, after the casino agreed to close for an extended stretch as part of the state's larger efforts to check the spread of the COVID-19 strain of coronavirus.
Both Mohegan Sun and the nearby Foxwoods Resort Casino ramped up activities slowly last summer and autumn, with the outlook for 2021 still an open question as COVID-19 cases escalate again in advance of general availability of vaccines. The 10,000-seat Mohegan Sun Arena has yet to reopen, with the venue a major draw for the resort through concerts and sporting events.
Mohegan Sun is the second largest casino in the United States by square footage, according to Gambling.com, sandwiched between Oklahoma's Winstar World and Foxwoods.
As of September, the Mohegan Tribal Gaming Authority had about 11,000 people on the payroll at Mohegan Sun, Pennsylvania's Mohegan Sun Pocono, the MGE Niagara Resorts in Canada and smaller venues. That was 1,000 fewer workers than the authority employed in the final months of 2019 on the eve of the COVID-19 pandemic.
Over 12 months through last September, Mohegan Sun contributed revenue of $716 million to the larger organization's total of $1.1 billion, a 28 percent drop for the casino.
The authority reported a $162 million loss for its 2020 fiscal year, after barely missing a profit the prior year and pocketing a $131 million profit in fiscal 2018. Despite generating nearly no revenue over two months last spring, Mohegan Sun still achieved a $128 million operating profit, with the authority pegging the fiscal 2020 loss primarily to a revised valuation of the Mohegan Sun Pocono venue in Wilkes-Barre, Pa.
Debt totaled $1.9 billion as of September, with the Mohegan Tribal Gaming Authority assigning a value of $2.7 billion to its combined assets, including $112 million in cash readily at hand. In December, the Mohegan Tribal Gaming Authority was approved for a new, $50 million loan from Liberty Bank under the Federal Reserve's Main Street Lending Program, created to ensure access to financing for entities that were on sound financial footing prior to the pandemic.
Under federal bankruptcy law, tribal nations cannot seek protection for assets in the U.S. bankruptcy courts, but multiple law journals indicate protections can extend to state-chartered corporations under their control in U.S. jurisdictions.
In October, the CEO of Citizens Financial Group noted the bank's ongoing efforts to work out arrangements for hospitality industry borrowers in arrears on loans.
"If we're in an extended period of either lockdowns or consumer behavioral shifts that goes well into 2021, … that puts more stress on these narrow sectors," CEO Bruce Van Saun said during an October conference call. "Certain businesses are disproportionately impacted from the new normal about how we're living our lives."
The General Assembly opens its 2021 session on Wednesday, with the state budget at the top of a short list of immediate priorities that include COVID-19 vaccine distribution and assistance for people and businesses impacted most by the pandemic.
Gov. Ned Lamont's press office did not respond immediately Tuesday on whether the governor is considering any financial aid to Mohegan Sun or Foxwoods, to include a deferral of payments the tribes make under gaming compacts for slot machine revenue. Over a quarter century of operation, Mohegan Sun has chipped $4 billion in revenue into Connecticut's coffers.
Connecticut stepped in last fall to bail out Mystic Aquarium, which faced millions of dollars of debt and revenue shortfalls as a result of the pandemic.
State Sen. Cathy Osten, D-Sprague, said she does not anticipate any change to Connecticut's revenue agreement with Mohegan Sun, while emphasizing the importance of the venue and Foxwoods to the state economy. She added she expects the legislature to once more consider an expansion of wagering in Connecticut to include sports books and online games.
"The tribal nations have never asked for anything except for permission to move forward," Osten said Tuesday. "The state of Connecticut is not supporting two of its largest businesses. … The gaming industry will rebound."
In the first five months of the state's 2021 fiscal year starting last July, Mohegan Sun's compact funneled $49.5 million to Connecticut's general fund, an $8.2 million shortfall from a year earlier. This year's contributions from Mohegan Sun nearly matched Connecticut's statewide revenue from hotel room occupancy taxes over the same five-month stretch in 2019.
Mohegan Sun racked up a $549 million handle last July, then saw drops over four consecutive months to $372 million in November. It was the first time since 2011 that the casino saw its handle decline four months in a row, bottoming out at $669 million in November that year. Prior to last year, Mohegan Sun's handle had dropped below the $400 million threshold since 1998. The casino's record month was July 2007, the only time the handle topped $1 billion..
Includes prior reporting by Joe Amarante and Jim Shay. [email protected]; 203-842-2545; @casoulman