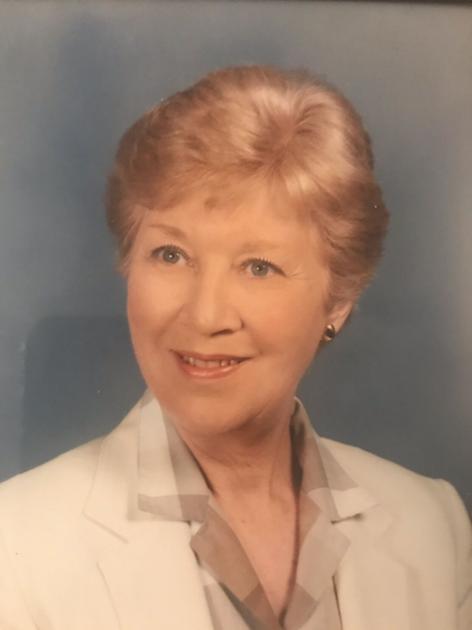 CHAMPAIGN — Elaine Wood Norrick, 89, a resident of Champaign for more than 60 years, passed away peacefully on Tuesday (Dec. 29, 2020) in Franklin, Tenn.
A former elementary school teacher, passionate fan of college basketball, serious poker player, avid reader, movie buff and theater lover, she had relocated to Tennessee less than a year ago to be closer to family. Though she loved her new home and the milder weather of the south, she hadn't quite embraced the SEC and declared she had no intention of ever doing so, remaining a loyal Big 10 and Illini follower to the end.
Elaine was born in Oakland City, Ind., and graduated from Oakland City High School (now Wood Memorial High School). She attended Oakland City College (now Oakland City University), graduating with a bachelor's degree in education, which she quickly put to use teaching first through fourth grade, all at the same time, all in one classroom. Not surprisingly, it was here she honed her patience, tolerance and disciplining skills, later deftly putting them into practice during her children's teenage years.
She married high school basketball coach Wayne Norrick in 1951 then moved to Champaign in the late 50s when Norrick became a principal with Dog-N-Suds. She was an active member, along with her husband, of the lllini Rebounders, served as president of the Burnham Hospital Women's Auxiliary and was a member of First United Methodist Church of Champaign.
Over the course of her 89 years, Elaine taught us many valuable life lessons, such as how to bluff your way out of a bad poker hand, the importance of boxing out in a tight basketball game, how to quickly thaw a turkey in the bathtub, dress with style at any age, the power of a good book to transform you, and why "Les Miserables" was the best book ever written (she should know having read almost all of them).
She loved France, a good action movie, swing dancing and trying new things, to a point. She took great joy in the many dear friends and winning bids she made playing in numerous bridge clubs throughout the years. She could whip up a mean pot of chili on a moment's notice, and her meatloaf was legendary, having been featured at one time, along with her recipe, in The News-Gazette. It is still believed she has stashed somewhere among her many possessions the elusive original recipe for the Dog-n-Suds coney dog sauce.
She survived the Depression, polio and her husband's many wild pranks and adventures. And through it all, she showed us love, kindness and the generosity of her spirit. She lived life on her own terms and will be sorely missed.
She was preceded in death by her parents, Waldo and Muriel Wood; sister, Betty Jo Barnes; husband, Wayne Norrick; and daughter, Kim Norrick Evans.
She is survived by a daughter, Cindy Sargent (Jonathan) of Franklin; a son, Scott Norrick (Christine) of Wilmette; six grandchildren, Brittany Evans Mills, Matthew Sargent, David Sargent, Stephen Sargent, Patrick Norrick and Sarah Norrick; and eight great-grandchildren.
Due to the current pandemic, a celebration of life will be held at a later date.
As a former teacher who deeply believed in the value of a good education, she would be honored if rather than sending flowers, you contributed toward furthering the education of some worthy students through the Wood Memorial High School Scholarship Fund at eastgibson.dollarsforscholars.org.