Bitcoin has been the domain of illegal offshore sportsbooks and gambling sites for quite some time now in a post-UIGEA world, but a patent recently acquired by International Game Technology (IGT) has brought cryptocurrency one step closer to mainstream adoption in the regulated gambling market.
On Tuesday, IGT received a patent for a system that allows gamblers to use cryptocurrency at casinos to play slots and other games. The patent describes a system designed for use at land-based casinos, but the technology also has obvious implications for online sports betting as cryptocurrency inches closer to mainstream adoption and continues to prove its resiliency.
However, IGT has not committed to a specific plan to deploy the technology. IGT spokesman Phil O'Shaughnessy told Bloomberg his company "secured this patent to bolster its industry-leading patent portfolio in anticipation of any possible future direction in regulated gaming involving cryptocurrency."
How the IGT Bitcoin Gambling Proposal Works
The IGT patent summarizes the system as follows:
"A system that enables cryptocurrency funds to be transferred between a gaming establishment account associated with a player and an external cryptocurrency account."
Figures included in the filing depict a method by which a gambler can log in to his personal cryptocurrency wallet, scan a QR code on a gambling machine using his mobile phone, and then transfer funds to his gaming account. From there, the player chooses an amount in dollars to transfer to a specific gaming machine to play.
The system also supports cashless withdrawals. When they're done playing, customers can withdraw their winnings as dollars via ACH transfer or to a credit or debit card. Players may also convert their winnings back into bitcoin and transfer the funds to the cryptocurrency wallet of their choice.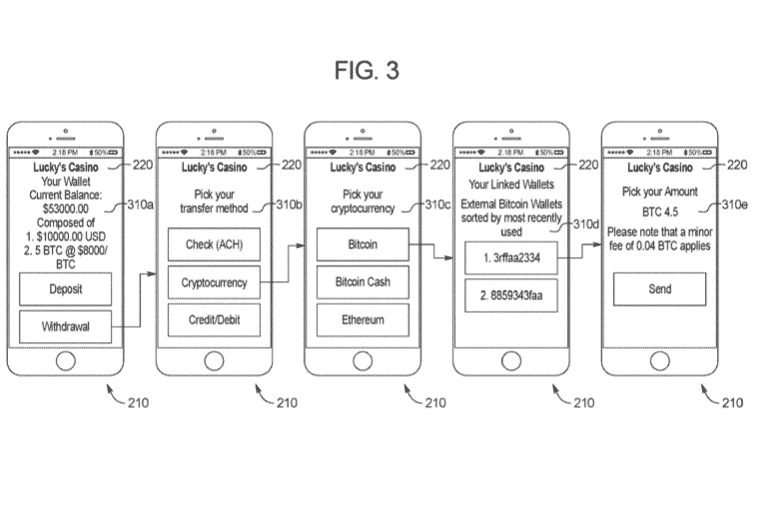 Is Legal Bitcoin Sports Betting in the Cards?
The IGT patent appears to focus on cashless gaming in the land-based casino environment, but IGT is also active in online sports betting as one of the industry's major platform providers. The successful deployment of bitcoin technology in the highly regulated casino industry opens a path to similar developments in the online sports betting space.
Cashless gaming has been on the minds of industry execs for more than two years now. As BettingUSA noted earlier this year, American Gaming Association (AGA) CEO Bill Miller has advocated for cashless gaming for more than two years now.
Even before coronavirus hit US shores, the American Gaming Association and others have sought to modernize the casino industry, make casino gambling more convenient for a younger demographic that is familiar with digital payments, and to strengthen responsible gambling efforts.
The significant and wide-ranging impacts of COVID-19 have only bolstered support for cashless gaming. Even as casinos reopen, the business has changed, and consumers are wary of touching surfaces touched by many others. Cashless gaming is now more than a matter of convenience; for many, it is a matter of health.
IGT also made strides in cashless gaming this week after receiving the approval of Nevada regulators to launch its Resort Wallet payment system. Resort Wallet allows players to use a loyalty card to transfer funds to and from individual gaming machines on the casino floor.
The adoption of cashless gaming paves the way for adjacent technologies such as bitcoin. However, getting there from here will be a process. There are no regulated sportsbooks in the USA that accept bitcoin payments today.
The near-anonymous nature of cryptocurrency presents unique challenges for regulators who must track financial transactions, identify the sources of payments, spot suspicious betting patterns, and detect signs of problem gambling.
Additionally, the state-by-state nature of sports betting regulation precludes any sort of national rollout. Each state must decide independently if it will permit licensed sportsbooks to adopt bitcoin deposits and withdrawals. Legal bitcoin sports betting is not yet imminent, but it did take a step closer to reality this week.