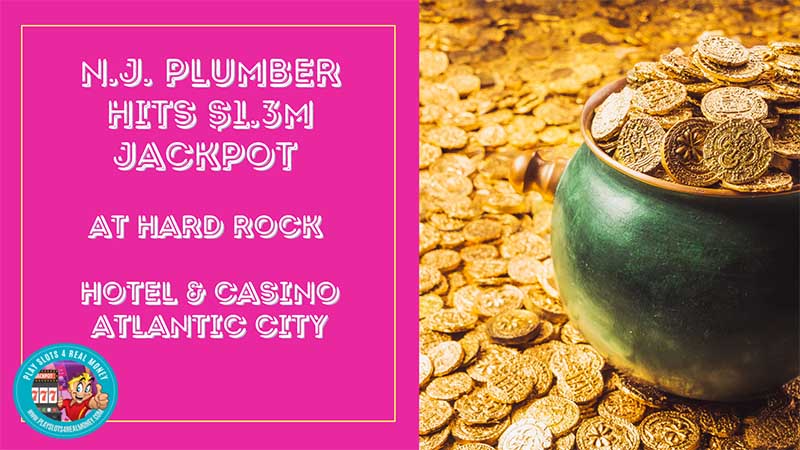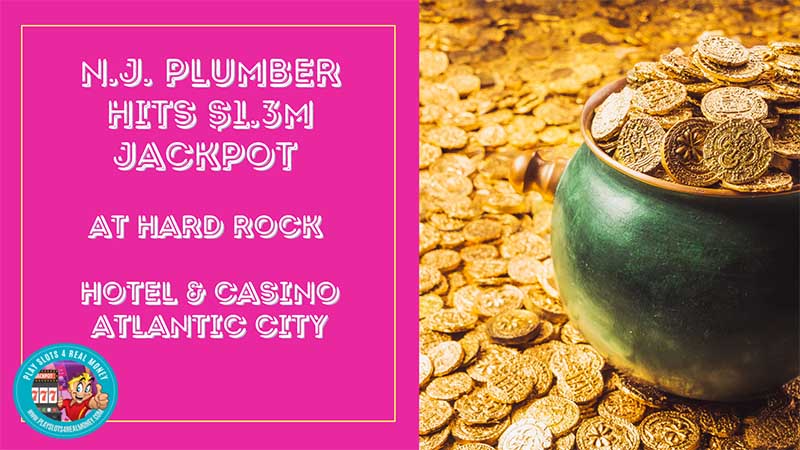 Every avid slots player has visions of one day hitting it big. Even casual bettors picture themselves winning a multi-figure progressive jackpot. For one New Jersey plumber, that dream came true earlier this month.
Local casino sources connected with PlaySlots4RealMoney.com recently relayed the story around the seven-figure win. Only identified as James in a corresponding picture, the lucky winner celebrated his newfound wealth.
Scores The Royal Flush Mega Jackpot on Ultimate Texas Hold'em At Hard Rock
He was playing the Royal Flush Mega Jackpot on Ultimate Texas Hold'em at Hard Rock Hotel & Casino Atlantic City. The winning hand was a $5 bet. The jackpot was in excess of $1.3 million.If you like to play Ultimate Texas Holdem, you may want to give Casino War a try. The winner's response to Hard Rock officials was:
"It is surreal to have hit a $1.3 million jackpot. Especially because playing cards is a little different than laying pipe."
His immediate plans include a much-deserved vacation with his wife. He also plans to put some of the money away for his kids.
You would have to think his enthusiasm is tied to the overall size of the win. These kind of casino jackpots are considered life changing.
James was not the only big winner at Hard Rock this October. Another New Jersey resident from Mays Landing walked away with an extra $90,000. That lucky winner was playing the Blazing 7's progressive slot.If you like to like to play slot machines at land casinos, you may want to try Royal Reels, or Rock On using your mobile device.
Hard Rock officials also mentioned an $80,000 jackpot hit on a Double Gold progressive machine. Another player won $168,657 on the Dollar Storm progressive slot.
The really big jackpots in New Jersey can still be found playing the lottery. Back in July, a local resident won the $124 million jackpot in the national lottery game Mega Millions. The winning ticket was purchased at a convenience store in Hudson County, New Jersey.
The actual location was The Corner Store II, News N Things in Bayonne. This was confirmed by New Jersey Lottery officials. Choosing the cash option, the winner walked away with $100.8 million. However, they still have to give the state and the federal government their cut in taxes.
Retailers selling the winning ticket do quite well for themselves as well. The commission won at this location was $30,000. Mega Millions is offered in 45 states and Washington DC. This distribution list also includes the US Virgin Islands.
The Hard Rock Atlantic City sits on the site of the former Trump Taj Mahal.
That casino went bankrupt years ago. It is located on the famed Atlantic City Boardwalk. The site covers 17 acres in the heart of this coastal gambling town.
The expansive casino floor remains the primary tourist attraction. Yet, Hard Rock has also made a name for itself with world-class musical entertainment. This property has a 400-seat Hard Rock Café with live musical acts.
Interestingly, special room rates at the Hard Rock start at just $79. Player loyalty points can be earned by joining the Wild Card Rewards program. This is a tiered loyalty program tied to your overall casino play. The two primary levels include:
Elite Rewards
Rock Royalty
Each level comes with a full list of add-ons and special offers.
• Source: N.J. plumber hits $1.3M jackpot at Hard Rock Hotel & Casino Atlantic City From NJ.com On October 15, 2020.


Tagged with: News • progressive jackpots • USA Casinos