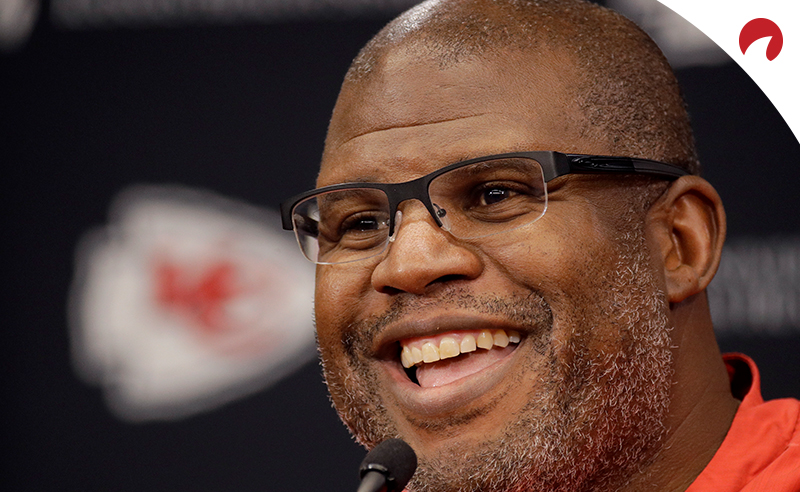 The Atlanta Falcons fired Dan Quinn during the season and interim head coach Raheem Morris finished off the season. Quinn finished his coaching record with a 43-42 record including an appearance in Super Bowl 51.
See Odds Shark's Best NFL Sites
BetOnline has released odds to become the next Atlanta Falcons head coach odds with Kansas City Chiefs Offensive Coordinator Eric Bieniemy as the (+175) favorite. Followed by Raheem Morris (+400), Brandon Staley (+500), Todd Bowles (+500) and Robert Saleh (+600) are the top five on the oddsboard.
Who will be the next coach of the Atlanta falcons?

| Option | Odds |
| --- | --- |
| Eric Bieniemy | +175 |
| Raheem Morris | +400 |
| Brandon Staley | +500 |
| Todd Bowles | +500 |
| Robert Saleh | +600 |
| Brian Daboll | +700 |
| Lincoln Riley | +800 |
| Byron Leftwich | +1200 |
| Josh McDaniels | +1200 |
| Matt Eberflus | +1200 |
| Arthur Smith | +1400 |
| Dabo Swinney | +1400 |
| Jim Harbaugh | +1400 |
| Greg Roman | +1600 |
| Dennis Allen | +2000 |
| Tony Elliott | +2000 |
| Nick Saban | +2500 |
Odds as of January 5 at BetOnline
Eric Bieniemy Has Best Odds To Become Next Head Coach of the Atlanta Falcons
Eric Bieniemy is the offensive coordinator for the Kansas City Chiefs and seems like the perfect job. Bieniemy has +175 odds to be the next head coach of the Atlanta Falcons with an implied odds of 36.36% according to the Sports Betting Calculator.
He spent the last few years under head coach Andy Reid and the Kansas City Chiefs. Which would fit perfectly into his coaching schemes with an offensively gifted Falcons team. There needs to be a decision on what to do with quarterback Matt Ryan, but outside of that, they have two prolific wideouts in Julio Jones and Calvin Ridley to go with running back Todd Gurley.
Best Value Pick: Josh McDaniels
Josh McDaniels has been around for many years. He made a quick stop as the Denver Broncos head coach where he lasted a season and a half, and an even quicker stop as the Indianapolis Colts head coach, in which he agreed to leave New England only to retract. McDaniels has +1200 odds to be the next Atlanta Falcons head coach.
McDaniels might be finally ready to move on from New England after a troublesome season with Cam Newton as the quarterback. He is a great offensive mind that would help infuse some new energy in Atlanta. Despite there being some really good offensive-minded coaches out there, McDaniels would be a great fit here.
Long Shot Pick: Raheem Morris
Raheem Morris was the interim coach for the Falcons after the firing of Quinn. He guided the team to a 4-7 record. Morris does have some head coaching experience. He was the Tampa Bay Buccaneers head coach from 2009-2011. Morris currently has the second-highest odds to become the Atlanta Falcons head coach at +400.
The one knock on Morris is that he's had trouble as the head coach with a combined 21-38 record and just one winning season under his belt. While Morris may be a longshot, he might have the inside track with the fact that he's been with the team since 2015 and has a strong relationship with owner Arthur Blank.