December 26, 2020
Mo Nuwwarah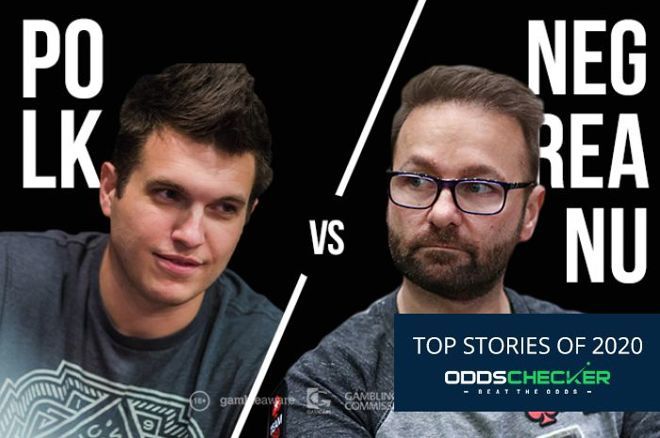 This year's Top Stories are brought to you by Oddschecker US.
Visit OddsChecker to get instant access to the latest odds, tips and exclusive offers thanks to their all-inclusive sports-betting portal.
Whether you like football, basketball, baseball, hockey, soccer and more, OddsChecker is your one-stop-shop to get always the best odds. Check out Oddschecker US today!
---
Rocky wouldn't have backed down.
Maybe that's what was going through Daniel Negreanu's mind this summer.
For years, he'd served as something of a punching bag for fellow star player Doug Polk. Not even retirement and a professed desire to move on to more mainstream topics could keep Polk from throwing the occasional needle his way.
The latest barbs had come following an on-air meltdown in which Negreanu cursed in a blue streak, frustrated over connection issues during the online World Series of Poker. Polk and his team had some fun with that scene, cutting the audio of Negreanu's swearing and layering it over his MasterClass commercial.
Polk declared he'd come out of retirement for a heads-up grudge match against his old rival. He repeatedly said he didn't expect it to happen, though — perhaps simply in an attempt to goad Negreanu into accepting.
If that was the hope, it didn't seem to be working at first. A skeptical "Kid Poker" pointed out Polk had a vast experience edge in heads-up no-limit cash, an irrefutable fact considering Polk had once been considered possibly the world's best in the format after climbing to the highest stakes and beating the likes of Ben Sulsky and Viktor Blom. While Negreanu was a respected competitor at the highest tournament stakes, deep-stacked heads-up no-limit hold'em is simply a different world entirely.
Taking the Challenge
If Negreanu didn't idolize Rocky, the iconic boxer from the Oscar-winning namesake film, maybe that would have been the case.
But, Negreanu has dogs named after "Rocky" characters. He wears shirts plastered with the names of more of the characters. He has repeatedly said he watches the entire "Rocky" series to get ready for the WSOP Main Event each year.
So, perhaps it wasn't a total shock when Negreanu gave the proverbial "lace 'em up." He agree to play $200/$400 on two tables online, meeting Polk for battle in his preferred format on his preferred grounds.
"If this will make you feel better and give you some type of closure from your multi-year obsession with me," he said, "deal the f****** cards."
It wasn't quite that straightforward, of course. Parameters needed setting, and some haggling ensued.
Eventually, they agreed upon the rules for the match:
100 big blind stacks with automatic top-up
Minimum sessions of two hours
25,000 hands, with the option for losing player to quit halfway through
Livestreams with cards down
Abide by WSOP.com's rules against use of HUDs and hand history aggregation
Game on, starting Nov. 4.
Negreanu Takes Round 1, Battles Early
While almost the entirety of the match would be played online, Negreanu did get the chance to start off in familiar territory, on the live felt. The players arranged for the opening 200 hands to take place at the PokerGO Studio in Las Vegas, so the fans could get a taste of what was to come with some cards-up coverage to build a little hype.
Unlike Rocky, who seemed to need to get hit a few times before he really locked in, Negreanu came out fast and landed the first few blows. He picked off some bluffs and made some big hands, locking in a solid $116K victory.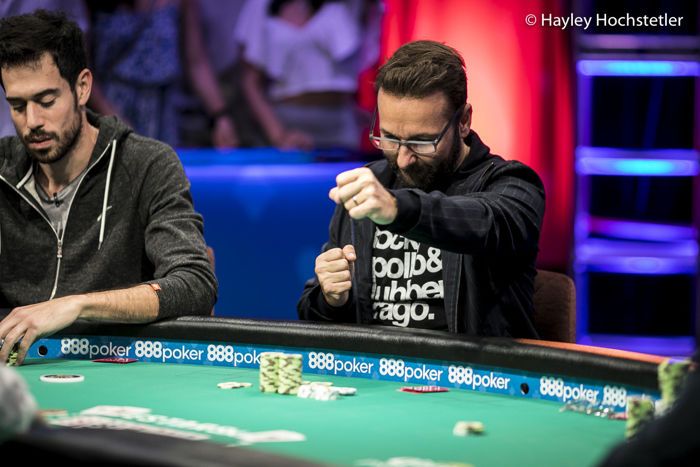 Then, it was time to settle in for the long online grind. Each player had his own slightly biased commentary team on his media channels, broadcasting cards-down coverage to several thousand fans as pots worth as much as six figures exchanged hands.
Mike Brady has handled much of the front-facing work for Upswing Poker, Polk's well-established training site, organizing a rotating cast of co-commentators and tracking results in real time.
"It was a fair bit of work from the start, and that's continued as we try to improve the quality of the stream after every session," he says, making a point to credit Jimmy Fricke with his help behind the scenes. "Viewer feedback has been instrumental in those improvements, so thanks to everyone who has watched and suggested changes."
Negreanu's live success carried over to the early online sessions, much to the chagrin of the majority of the fans on Polk's channel — though Brady estimated the split to be only around 2-to-1 in Polk's favor.
After dropping two big losses, Kid Poker booked wins in four of the next five sessions to take a lead of about $180,000.
Polk Takes Command
Polk wouldn't be held in check for long, though. Eventually, his higher level of aggression, featuring frequent overbetting and plenty of bluffing, beat Negreanu back like a series of Ivan Drago blows in "Rocky IV."
Seven of the next 11 sessions would see Polk book six-figure wins, highlighted by a monster day when he battered his rival to the tune of $332K.
Brady says watching Polk work has given him plenty of food for strategy thought as he watches the two legends battle it out.
"I've learned a lot during and especially between sessions when discussing the hands with Doug/others," he says. "The coolest thing I've learned is regarding three-bet sizing out of position — specifically how a smaller size makes a lot of sense when stacks get deeper. That's a divergence from a lot of conventional wisdom and the way I approached three-betting out of position for the past decade."
A slightly less-impressed Negreanu was more focused on the incredibly poor luck that variance had thrown his way.
"Fun stat: so far after 80,00 hands we have played 25 all-in pots before the river," he wrote. "Of those 25 all ins, I have won exactly zero times when I was the underdog."
A few recent sessions had left him unable to do much besides curse in post-match interviews, as he was forced to reload his account after falling nearly $1 million behind.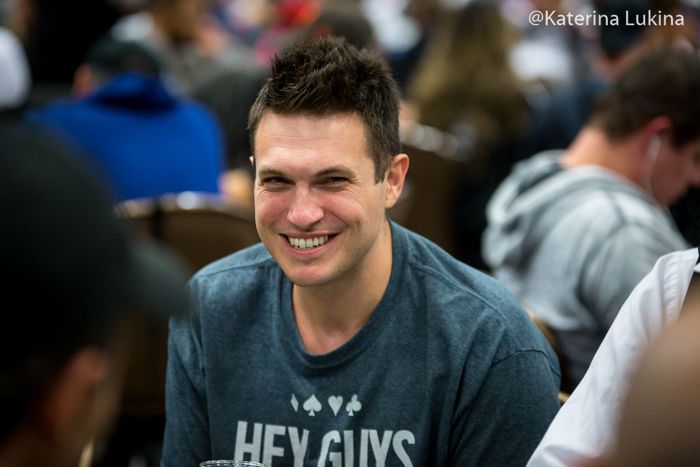 Wobbled, But Not Out Yet
Still, Negreanu vowed to keep fighting. He maintained he was eager to get back to battle in several pre-session tweets following the brutal outings, showing no signs of quitting.
In fact, he even ranted about potentially adding tables and playing to 100,000 hands after one loss, likely music to Polk's ears considering how things have gone thus far.
As long as the two keep firing up the tables, the fans keep coming back for more, something Brady says has "pleasantly surprised" him.
"I expected most people to get bored of the cards down action after a handful of sessions," he says. "Big pots happen so frequently though — that has to help."
He adds that he could see more showcase matches happening down the road.
"I think there needs to be some novelty but not necessarily in a years-long feud like this one. I think two big names battling it out is enough to draw in a lot of viewers, so long as they're playing no-limit hold'em."
Certainly, Polk has tried to fan some flames by challenging the likes of Doyle Brunson, though that particular offer entailed some mixed-game play.
Before he can step in against future foes, though, he's got to finish off this one. Negreanu may be battered and bruised, perhaps even bleary-eyed and looking up at a counting ref from the canvas, but he's not asleep quite yet. Polk has inflicted heavy damage, but he still needs to land a knockout blow, lest he allow a comeback worthy of yet another Rocky reboot.
---

Oddschecker US is 100% free to use. Get the latest odds from some of the most trusted brands in the industry, with promotions and betting tips to help you pick winners!
---