This past Saturday we put Ontario's baby to sleep as we closed out the 2020 Ontario Sires Stakes program for 2020 with the Gold Super finals and what a night it was. Recapping the Saturday program if you missed it that is what took place.
Dashing Muscle kicked off the evening when the heavy choice Imextraspecial went off stride before turn one and allowed Dashing Muscle the opportunity to capture the two-year-old trotting filly division which she did.
We had the upset win by Rhythm In Motion Upsets Tattoo Artist.
Rose Run Victoria Reigns Supreme in the three-year-old pacing fillies final.
Pemberton crushed In Super Final for three-year-old trotting colts.
Scarlett Hanover would not be denied in capturing two-year-old pacing fillies crown.
Fashion Frenzie under the guidance of trainer Richard Moreau took the two-year-old trotting colts & geldings title.
Bulldog Hanover went a huge back half to tgrab the wo-year-old pacing colts & geldings title.
Shape Shifter & Magic Cape in a rare dead heat were both crowned champions in the $250,000 Final for three-year-old trotting fillies.
Wagering was good on the night as Total Handle: $2,767,370 passed the betting windows.
———————————————————————————————————
Monday October 19th,2020 Selections
R1-(1) AMERICAN VIRGIN
R2-(3) HAWAII
R3-(7) EDGEWATER
R4- (4) TAKE THE DEAL
R5-(3) SUPERLATIVE
R6-(2) DREAMY FELLA
R7-(8) FREE WILLY HANOVER
R8-(3) SWEET PINK
R9-(2) SOMBRE
R10-(4) SHES A SASSY BEACH
R11-(7) ROSE RUN VICTOR
All races can be wagered on via the HPIBET.com platform and we have provided an easy to access link to get you set up with a safe and secure wagering account.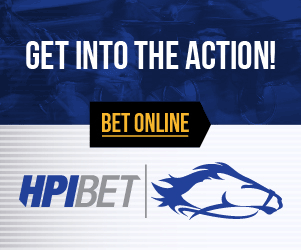 Fans are also encouraged to follow online and wager through
HPI Bet.
HPIbet is the leading 'go to' destination for betting on horse racing.
We put you at the forefront of the action with access to over 450 racetracks displaying the best in Thoroughbred and Standardbred racing from all over the world – North America, Europe, South Africa, Dubai, Japan, and Australia. Connect to HPIbet from anywhere– at home, work, or any hotspot in your city – and conveniently place bets, review handicapping statistics, and watch races on your Smartphone, Tablet or PC.
Accessible 24/7 on a reliable platform that ensures privacy and safeguards your information, you get peace of mind, the necessary tools to make winning bets and the thrill of horse racing any where, any time with HPIbet. Sign up now by clicking the link or the photo above.